This year, the IMBA program graduation ceremony was held on 22
nd
June. The weather was clear with the sun blazing over the sky, contradicting the previous week's constant rainstorms. According to the IMBA Director, Professor Shari Chang, 40 students from more than 13 countries with different cultural and educational backgrounds have attended the ceremony. Families and friends were there to witness this milestone, while also giving their blessings to the graduates-to-be, as these students will be leaving the academy after a long two years journey here.
The ceremony started at ten in the morning, former principal, Professor Edward H. Chow was invited to talk on stage to kick off the whole event. Professor Chow pointed out that IMBA has been the first All English Teaching program that teaches business studies, and how lucky it is to in such an outstanding academy. Professor Chow also gave advice to students, suggesting them to strike balance between their profession pursuit and spending time with their family.    
"IMBA brought me much knowledge and skill." President of The IMBA Alumni Association Selina Hsin recalled. President Hsin encouraged graduates to use what they have learned here. She added that the English training students receive at IMBA is a plus, letting graduates adjust to global corporations with ease. Furthermore, the debating segments that were arranged in class aim to provoke creative thinking, which will aid them in a working environment that requires open-minded thinking. Lastly, President Hsin shared her view on the world, on how it is constantly changing, and students have to "stay connected", "stay focused" in order to keep up with the current international shifts.  
Andrea Maria Gonzalez Rivas from The Republic of Salvador made her speech on stage as the representative of all student graduates. She thanked all faculty members for taking good care of them during the two years period, and she was grateful for the wonderful experience she has had in Taiwan. She specifically thanked the peers she studied together with, "IMBA is who you meet and what you learn from them." Thanks to the multi-cultural background of the students, IMBA has become the best platform for people from different cultures to freely communicate and interchange with one another.  
After the sincere words and earnest wishes from Professor Edward Chow, Professor Shari Chang, Ph.D., Director of IMBA Programme, and President Selina Hsin, a touching video prepared by the IMBA office as a present to the graduates. Later, Professor Shari Chang turned the tassels, signifying a new page and new identity for the student, as official graduates of the IMBA program. Although their studies here have come to its destination, the graduates still have a long path ahead in life. Again, congratulations Year 2019 graduates! Wish you all the best and have a bright future!
Congratulations on our future business leaders!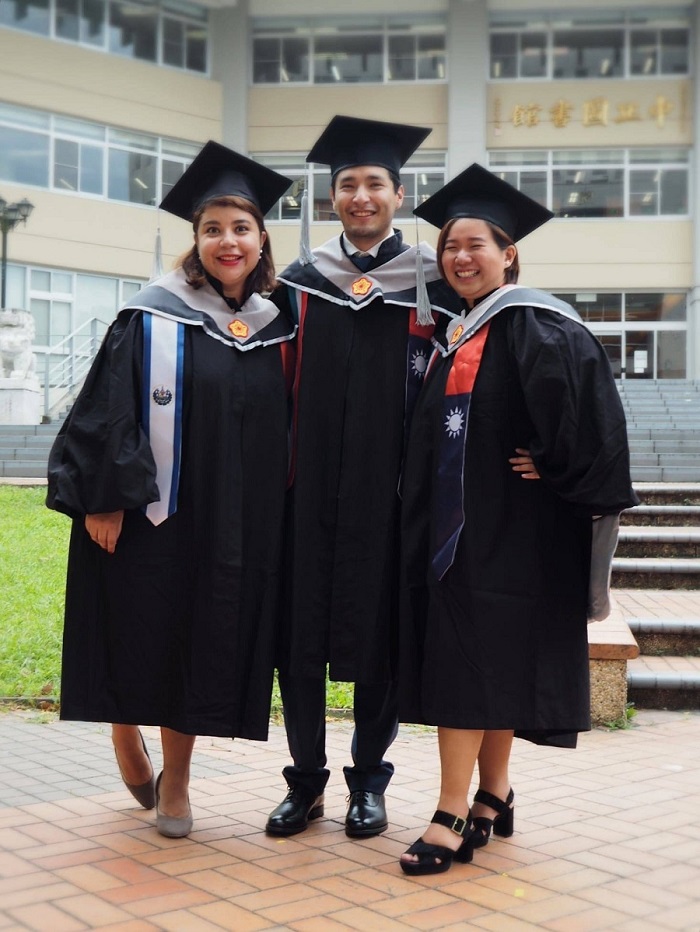 Andrea, Alonso and Peace (from left to right) from the Year 2018 IMBA Student Council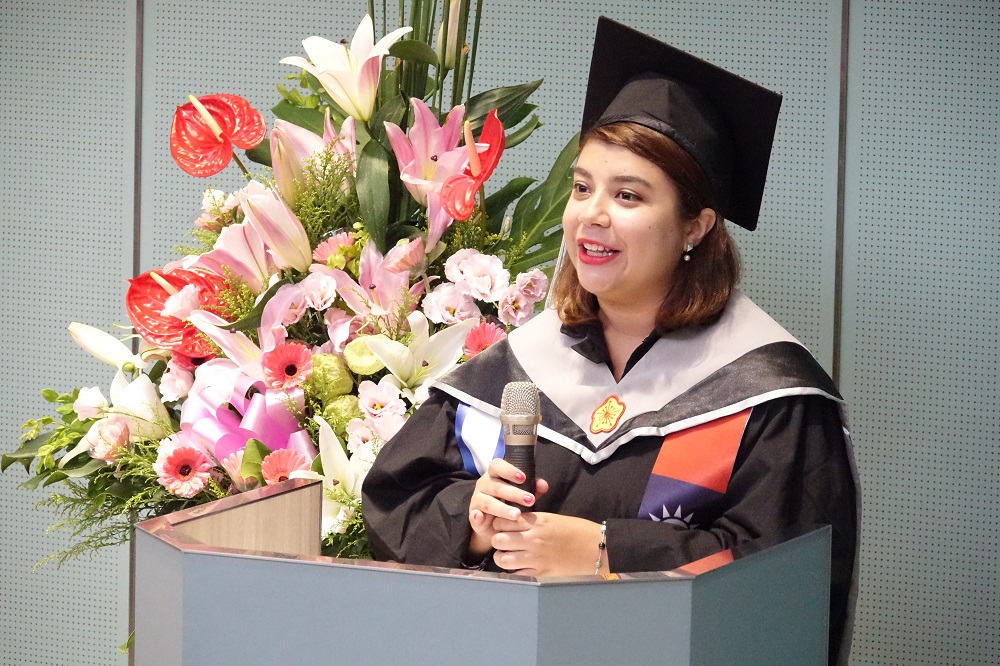 Andrea said during the testimonial "If you didn't know how to say "Hello or Thank you" in at least five languages, why you came to IMBA?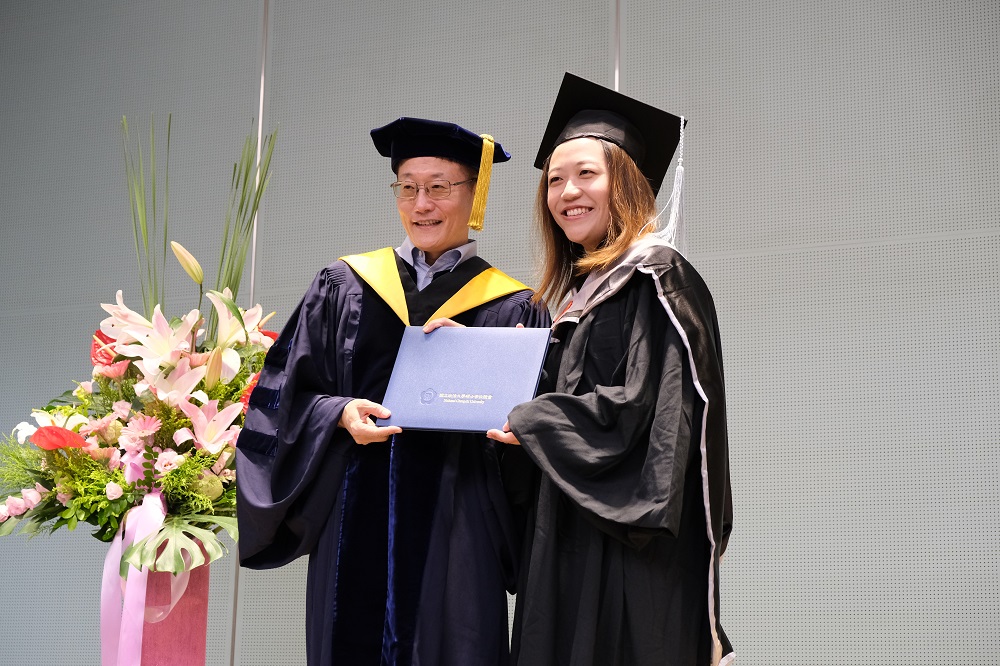 Grace awarding Diploma from Prof. Edward Chow, Ph.D., Former President of NCCU.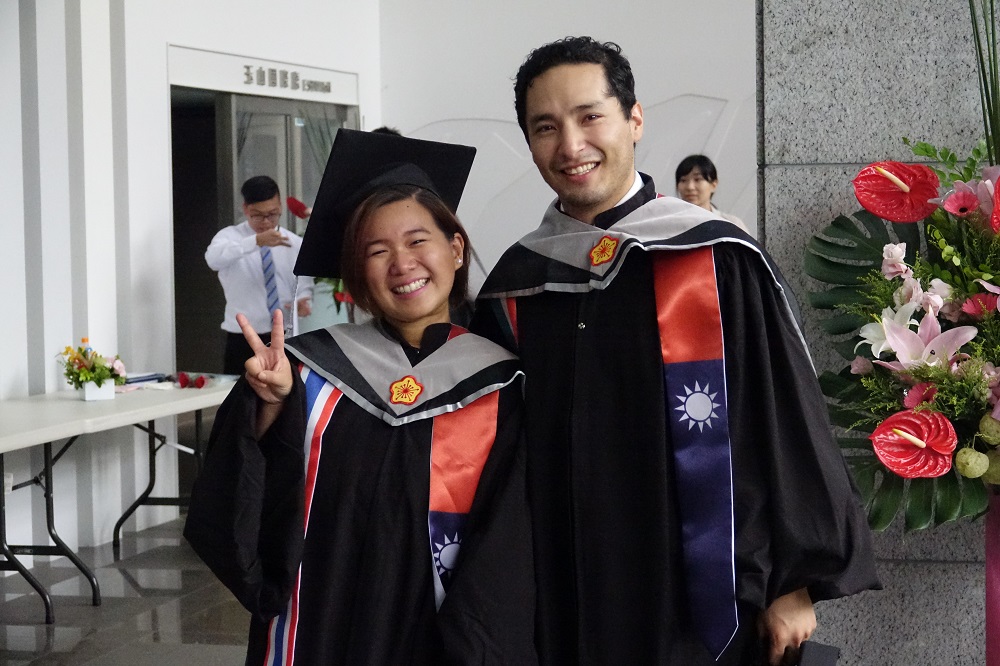 Peace and Alonso (from left to right) from the Year 2018 Student Council, both encourage the newcomers to try new things and enjoy the IMBA journey.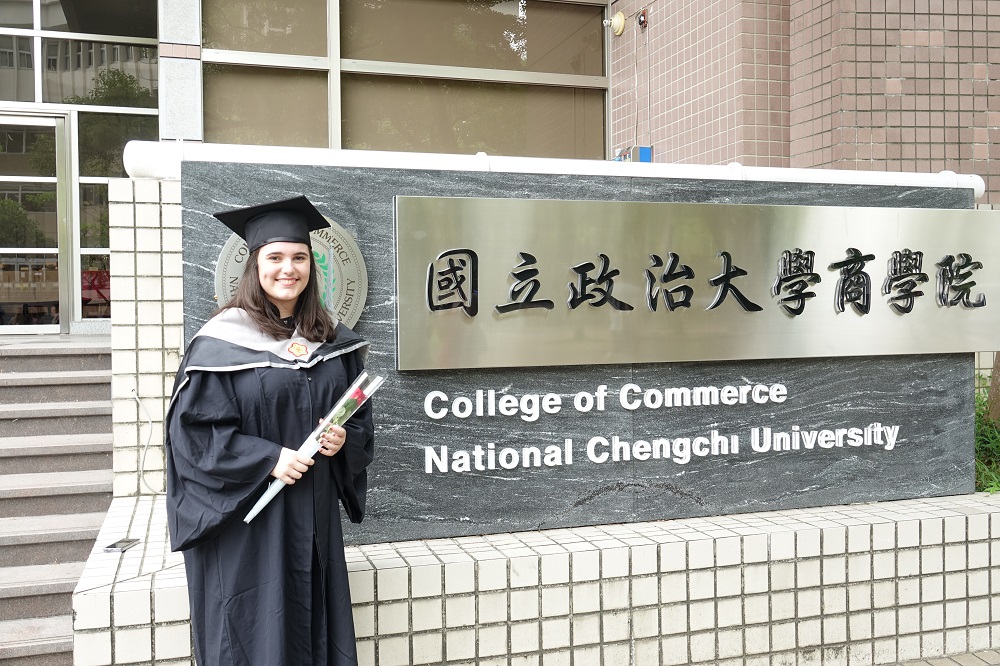 Dual Degree Student Celia was happy to be surrounded by the IMBA family including the classmates, professors and IMBA office for their great support.